Get WKI Certified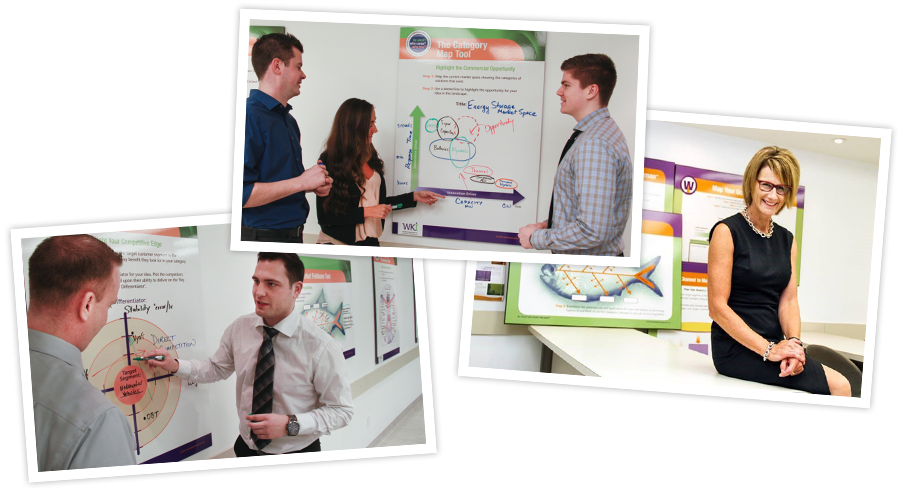 Join us for WKI Certification Training
Online Meetings, 3.5 hours, four mornings over two weeks.

Ready to Register? Click here.
Join us for inspiring and energizing entrepreneurial training.
We believe the ideal setting for entrepreneurial thinking and doing is in small and intimate group settings, where people can engage in conversations and collaboratively learning. You'll enjoy best practice entrepreneurial training in the So what? who cares? why you? entrepreneurial ideation program.
What can you expect at our training?
You can expect lots of drawing, discussion and discovery working at the whiteboards. It's designed to be hands-on and experiential, with you at the center of the experience. You'll work with Wendy Kennedy, the founder of WKI, to understand each tool in the So what? who cares? why you? methodology. You'll walk away with deep understanding of how to use WKI's entrepreneurial ideation program with your entrepreneurs. Even better, you'll join a community of entrepreneurial coaches willing to help you launch your own high impact ideation programs.
What's included? 14 hours of training, 3.5 hours, four mornings over two weeks.  You will also receive a full set of resource materials and coaching aids to advise and guide innovators. An online resource library exclusively for WKI Coaches provides value added templates and resources.
2021 WKI Certification Dates
WKI's So what, who cares, why you design frameworks are an ideal fit for our organization.  We use it as our primary approach to Entrepreneurship and Career Counselling as they help our clients to fully explore their passions, dreams, and new ideas to their full potential while also helping them find their business value and market opportunities within high growth sectors in Atlantic Canada. Working with early stage entrepreneurs and people in transition, the WKI Entrepreneurial Ideation method helps our clients to expand their vision for their new business idea or career opportunity, while also helping them to see their full potential within themselves."
— Nancy Beth Guptill, Founder of Sweet Spot Academy & Dream Launch Grow
WKI – Design Thinking for Business Builders