WKI Online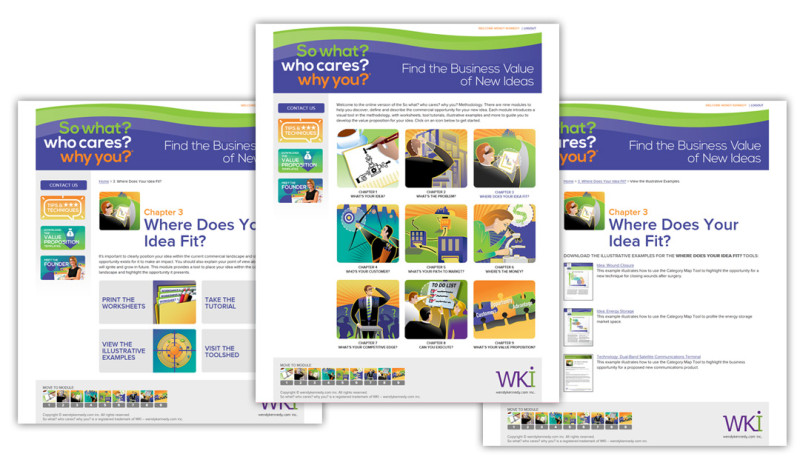 Looking for a virtual training solution for your innovators and entrepreneurs?  Our online suite of So what? Who care? Why you? tools give you a virtual system to provide your clients with step-by-step training and support from anywhere at any time.
Entrepreneurs with new ideas gain the freedom to work at their own pace to explore and discover the potential of their ideas. For advisors and counsellors, clients come prepared and informed, making coaching and mentoring sessions focused and productive.  Angel networks can also benefit by having entrepreneurs walk the business talk using common business vocabulary.
Download the Brochure Go to WKI Online
The WKI online tools system walks the entrepreneur through each step in the process, with narrated tutorials, real-world examples, tips and techniques and more.  There are nine, short modules, each addressing a specific question in the So what? Who cares? why you? methodology.  The WKI ToolShed resource library is also included, giving entrepreneurs a deep assortment of entrepreneurial support resources.
The entire system is completely mobile and flexible – take it with you when you're travelling, at the cottage, or working remotely.
Test Drive our Online Toolkit – Request a Demo Account
Brand Your Own Toolkit
We offer organizations the option to brand their own toolkit to build their brand with ecosystem members.  Ecosystem partners can also come together to offer the online toolkit, bringing a common approach to developing ideas into businesses throughout their community.
Talk with us about the many benefits of offering your own branded toolkit
If you would like to turn more of your organization's ideas into opportunities...