Entrepreneurial Training and Certification Program Schedule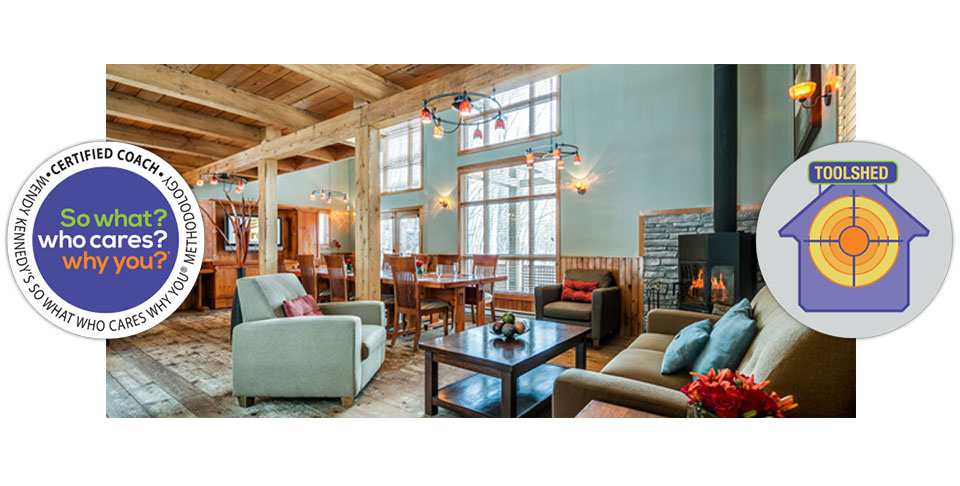 Join us at the ToolShed for two days of inspiring and energizing entrepreneurial training. Nestled into the beautiful Gatineau Hills just ten minutes from downtown Ottawa, we promise you this will be a training experience you'll never forget. We believe the ideal setting for thinking creatively and innovatively is in small and intimate group settings, where people can engage in conversations and collaboratively learning. You'll enjoy lots of fresh air and great food, along with best practice entrepreneurial training in the So what? who cares? why you? methodology.
The WKI Program: our training and certification program takes place over two days. You can expect lots of drawing, discussion and discovery working at the whiteboards and flipcharts. It's designed to be hands-on and experiential, with you at the center of the experience. You'll work with Wendy Kennedy, the founder of WKI, to understand each tool in the So what? who cares? why you? methodology. You'll walk away with renewed enthusiasm for entrepreneurial programs and also a full set of resource materials and coaching aids to use back at the office.
We use So what? who cares? why you? to work with engineers and researchers to determine the business value of all types of technologies – medical devices, energy technologies, advanced materials and more. Engineers love the process, tools and online support and we love that it facilitates our work to prepare them to bring their ideas to market."
— Darlene Boudreau, Executive Director, TECH Fort Worth
If you would like to turn more of your organization's ideas into opportunities...